The art of living
Mata Lee Art is a fledgling Québec brand that designs and produces fashion-forward throw pillows for the home. Created by internationally renowned artist Mata Lee, every Mata Lee Art pillow has its own unique aesthetic due to an artistic process that combines painting, digital design and silk screening.
Made to last
Mata Lee Art products are created using the softest high-quality linen and stuffing that are soothing to even the most sensitive skin. Specially designed with our water-based and environmentally friendly inks. We recommend dry cleaning.
Studio-boutique Motif
The 2015 collection is handmade by artist Marie-Hélène Langevin at the studio-boutique Motif in Saint-Lambert, Québec. Each pillow is printed using a silk screening process that produces a flawless reproduction of Mata Lee's designs.
In the interest of quality and durability, the entire Mata Lee Art of Living line is produced using the finest linen.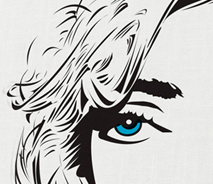 No pillow is complete without Mata Lee's final artistic touch: painting each eye by hand.
The Club
Join the Mata Lee Art Club and be among the first to receive information about our new collections, upcoming art exhibitions and product offers.